Product Description
The 
Power Cushion Infinity 2
Boa® Fit System is a performance fit system developed by Boa Technology Inc. it consists of three unique parts; a micro-adjustable dial, cable laces and low friction lace guides, these elements combine to significantly reduce lacing time while allowing for easy fine adjustments that maximize comfort.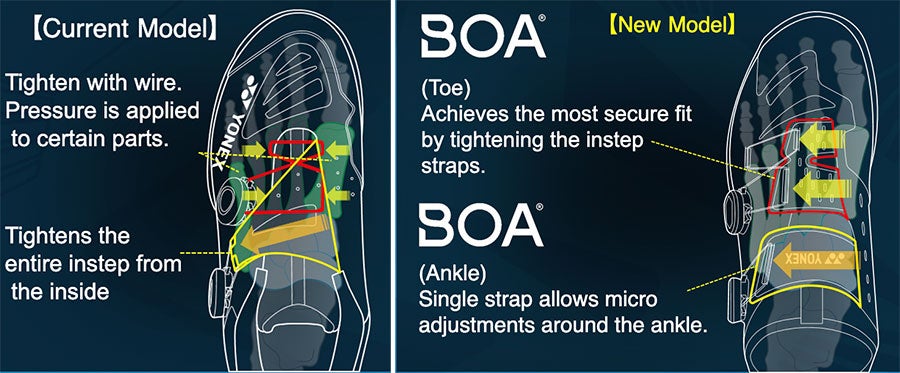 BOA®

 

Fit System
The dual dial BOA
®
 Fit System is built with dual straps, purposefully designed to cradle your feet with optimal support. Connect your feet to higher performance through millimeter adjustments and precise fit both on the forefoot and on the ankle.
Durable Skin Light
Durable Skin Light is a flexible yet strong film that is thermo-compressed. It is applied onto the wrap to provide an improved, secure fit with soft comfort.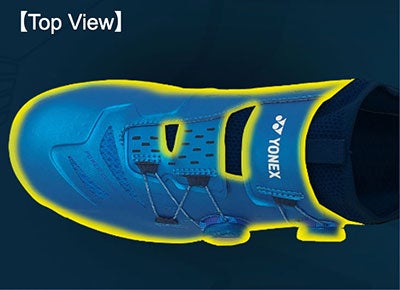 3D POWER GRAPHITE SHEET
Yonex's proprietary graphite sheet is built to flex and generate power with each step, while providing stability from unwanted twist.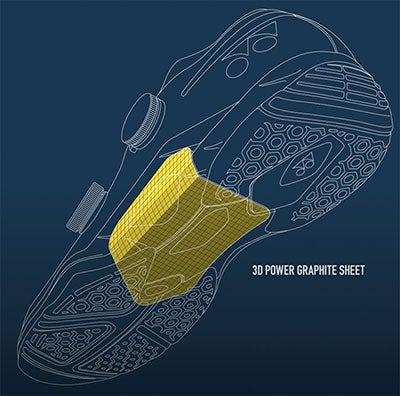 POWER CUSHION+
The impact in every step is energy you can use for your next move. By improving shock absorption, the POWER CUSHION+ technology transforms impact into energy. A 28%* increase in shock absorption and a 62%** increase in repulsion when compared to the standard EVA materials.

*Measured by the Japan Vehicle Inspection Association
**According to research by the Boken Quality Evaluation Institute, JIS Law is applied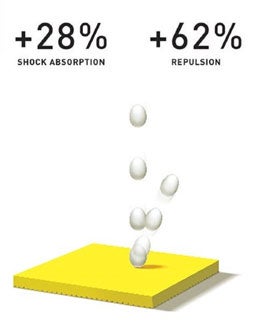 Product Technology 

Synchro-Fit Insole
Quicker Footwork
 YONEX new Synchro-Fit Insole construction allows a closer fit between shoe and foot, keeping power loss to an absolute minimum to achieve smoother movement and quicker footwork.Fig1. Compared to conventional footwear, the mid to heel area on the insole is lifted to provide a closer-fit between shoe and foot.Fig2. By holding the heel more firmly against the insole, the gap between shoe and foot is reduced, improving comfort and ensuring the foot does not slip forwards inside the shoe.

3D Power Graphite Sheet
3D Power Carbon plate is inserted in the midsole, reducing weight and reinforcing your stability when landing.


Power Graphite Drive
A graphite sheet is inserted along the sole for increased stability and to propel you forward to the next shot.



Toe Assist Shape
 A toe-centric design that cuts down on pressure in the big toe, as well as offering improved support at the mid-foot and heel for a stable fit. Power loss is reduced, allowing for swift footwork.

Inner Bootie
 A knit bootie is integrated into the shoe replacing the conventional tongue for improved comfort and better all-around fit.



Round Sole
Max Energy
The YONEX Round Sole is designed to provide all-around support for quick and smooth footwork. The Round Sole ensures smooth movements and transfer of maximum energy.
Caution

1) Before use make sure the laces are not damaged, checking for any tears or breaks.
2) Do not use the shoes while the dial is unlocked or laces are loose as this may cause injury.
3) Do not overtighten the dial as it may cause discomfort or poor blood circulation.
4) Do not turn the dial in the opposite direction as this may damage internal parts.
5) The dial may become damaged if hit against a hard surfaces.
6) The dial becomes damaged, please contact the retailer chat the product was purchased from.
7) Do not disassemble or modify the dial as it may become damaged.