The latest and the lightest shoe from Yonex is here. At just 250g Yonex Areas Z badminton shoes are designed for faster footwork with power and cushioning.
| | |
| --- | --- |
| Color | Mint Blue |
| Upper | Synthetic Fiber |
| Midsole | Synthetic Resin |
| Outsole | Rubber Sole |
| Material | POWER CUSHION+, POWER CUSHION, Double Raschel Mesh, Durable Skin Light, Feather Bounce Foam |
| Item Code | SHBAZM |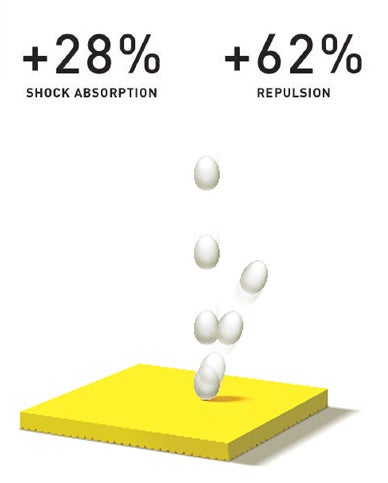 A raw egg can be dropped from 12 meters above the POWER CUSHION+ mat, rebounding to a height of 6 meters without breaking. **Tested by YONEX** POWER CUSHION™ is a trademark of Yonex Co., Ltd. *Research by the Japan Vehicle Inspection Association & Boken Quality Evaluation (based on JIS standards) in comparison to conventional cushioning material (EVA).
Power Graphite Sheet
Stable
A graphite plate is inserted under the middle portion of the sole to increase stability and reduce weight within the shoe.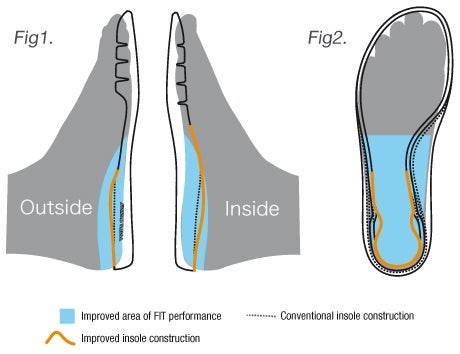 Synchro-Fit Insole
Quicker Footwork
 YONEX new Synchro-Fit Insole construction allows a closer fit between shoe and foot, keeping power loss to an absolute minimum to achieve smoother movement and quicker footwork.Fig1. Compared to conventional footwear, the mid to heel area on the insole is lifted to provide a closer-fit between shoe and foot.Fig2. By holding the heel more firmly against the insole, the gap between shoe and foot is reduced, improving comfort and ensuring the foot does not slip forwards inside the shoe.
Toe Assist Shape
 A toe-centric design that cuts down on pressure in the big toe, as well as offering improved support at the mid-foot and heel for a stable fit. Power loss is reduced, allowing for swift footwork.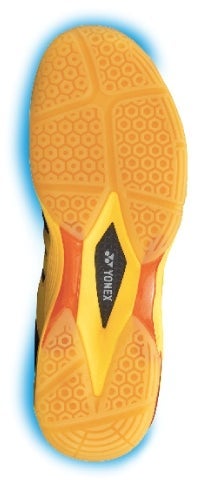 Round Sole
Max Energy
 The YONEX Round Sole is designed to provide all-around support for quick and smooth footwork. The Round Sole ensures smooth movements and transfer of maximum energy.