Product Description
In addition to the new Double Russel Mesh and ventilation holes, included in the toe and sole, respectively, which make the 65 Z more breathable and comfortable, a new seamless upper design has been adopted. This serves to cover the player's feet with one continuous piece of material, eliminating seams that add weight and can place pressure on joints, resulting in a stress-free, flexible fit.
The shoe heel includes Yonex POWER CUSHION+ material, which can famously bounce an egg dropped from a height of 12 meters back to a height of 6 meters, without breaking. Additionally, Power Graphite Lite runs in the sole, adding reliable stability.
Through its combination of comfort, lightness, and stability, it's easy to see why the POWER CUSHION 65 series has become the shoe of choice for the world's best.
They were designed for confidence in directional change. A new sole pattern increases traction in vertical, horizontal, and diagonal movements.

| | |
| --- | --- |
| Colour | Black |
| Upper | Artificial Leather |
| Midsole | Synthetic resin |
| Outsole | Rubber |
Product Technology



Shock Absorption
The YONEX Power Cushion absorbs shock and then reverses the impact energy for smooth transfer into the next movement. Compared with urethane, the YONEX Power Cushion construction provides 3 times more shock-absorbing power. When dropped from 7m above a Power Cushion sheet, an egg will bounce back 4m without damage.

POWER CUSHION +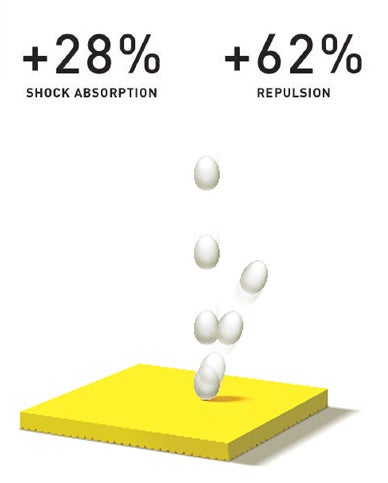 POWER CUSHION +
A raw egg can be dropped from 12 meters above the POWER CUSHION+ mat, rebounding to a height of 6 meters without breaking.**Tested by YONEX** POWER CUSHIONTM is a trademark of Yonex Co., Ltd.*Research by the Japan Vehicle Inspection Association & Boken Quality Evaluation (based on JIS standards) in comparison to conventional cushioning material (EVA).
Double Russel Mesh 
Double Raschel Mesh is an ultra-fine mesh that is extremely lightweight and durable. It provides eight times more air exchange for releasing moisture than ordinary mesh fabric.
Power Graphite Sheet
Stable
A graphite plate is inserted under the middle portion of the sole to increase stability and reduce weight within the shoe.
Power Graphite Lite
Increased Stability
A super-light graphite plate is inserted under the middle portion of the foot to increase stability and reduce weight within the shoe.
Lateral Shell
Reduced Power Loss
The Lateral Shell located on the outside of the forefoot prevents sliding at the edge of the sole. It reduces power loss, increases footwork response, and creates smooth, fluid, and offensive foot movements.
Synchro-Fit Insole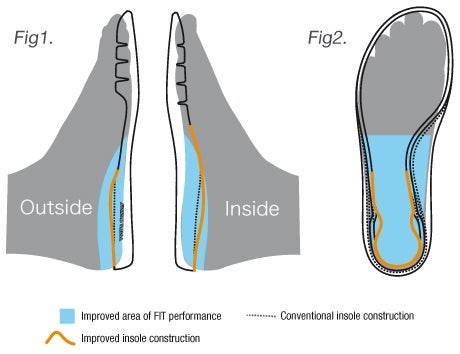 Quicker Footwork
YONEX's new Synchro-Fit Insole construction allows a closer fit between shoe and foot, keeping power loss to an absolute minimum to achieve smoother movement and quicker footwork.Fig1. Compared to conventional footwear, the insole's mid-to-heel area is lifted to provide a closer fit between the shoe and the foot. Fig2. By holding the heel more firmly against the insole, the gap between the shoe and the foot is reduced, improving comfort and ensuring the foot does not slip forwards inside the shoe.
Toe Assist Shape
A toe-centric design that cuts down on pressure in the big toe, as well as offering improved support at the mid-foot and heel for a stable fit. Power loss is reduced, allowing for swift footwork.
Round Sole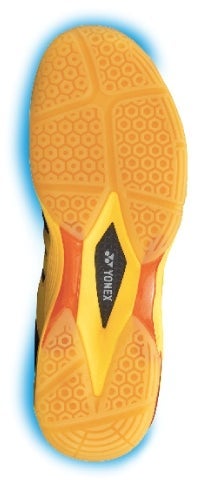 Max Energy

The YONEX Round Sole is designed to provide all-around support for quick and smooth footwork. The Round Sole ensures smooth movements and the transfer of maximum energy.
SEAMLESS UPPER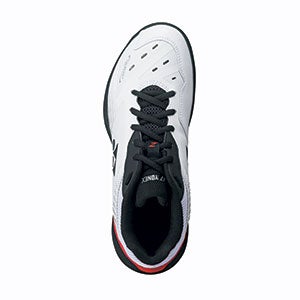 By utilizing a single piece of synthetic leather upper across the toe and mid areas,
the fit is enhanced and unwanted strain is alleviated.
FEATHER BOUNCE FOAM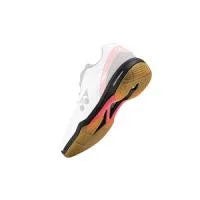 A lightweight, high-repulsion material built to support agile, fast-paced footwork. 8% lighter in weight,
while generating 20% more repulsion than the previous model.
RADIAL BLADE SOLE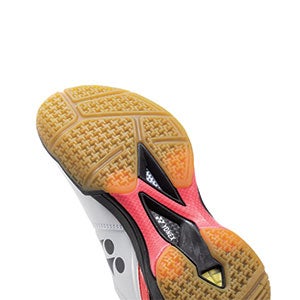 Designed for confidence in directional change. A new sole pattern increasing traction in vertical,
horizontal and diagonal movements.