Product Description
Yonex Astrox series rackets are designed for players who like to dominate the game with powerful smashes at steep angles. These head-heavy rackets allow you to take the lead with devastating power and quick gameplay. 
The new Yonex Astrox 99 Play is equipped with a slim shaft and  POWER-ASSIST BUMPER, a tungsten-infused weighted bumper installed at the top of the frame transferring additional weight to the shuttle for more powerful smashes. To enhance defensive shot-making, Wide Diameter Grommets are strategically placed on the frame sides, allowing strings to shift at impact for emphasized shuttle pocketing. The iconic ISOMETRIC frame has been modified by strengthening frame corners to adjust the shape and expand the sweet spot. 
Product Specification 
| | |
| --- | --- |
| Expertise Level | Intermediate |
| Weight (Grams) | 83 (+/- 2) - 4U |
| Balance Point | Head Heavy |
| Flex | Medium |
| Grip Size  | G5 (3.25 inches) |
| Frame Material | Graphite |
| Shaft Material | Graphite |
| Stringing Advice | 20 - 28lbs |
| Gourmets | 68 |
| Racket Length | 670mm |
| Stringing Status | Company Strung |
| Full Cover  | Yes |
Product Technologies
ISOMETRIC
Enlarged Sweet Spot
ISOMETRICTM technology continues to help the world's greatest players achieve global success. Developed over 30 years ago, the ISOMETRICTM design increases the sweet spot by 7%*. Compared to a conventional round frame, a square-shaped ISOMETRICTM racquet generates a larger sweet spot by optimizing the intersection of the main and cross strings. ISOMETRICTM delivers greater control without sacrificing power. ISOMETRICTM is a Trademark of Yonex CO., LTD.
*Tested by Yonex
Rotational Generator System

Counterbalanced Weight Distribution
By applying the counterbalance theory, weight is distributed throughout the grip end, frame top, and the joint for maximum control. The transition to the next shot can be performed smoothly, with rapid succession.
Control Support CAP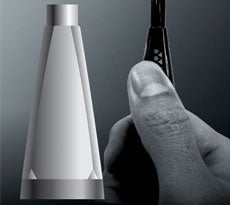 Sharp Maneuverability
The control support cap provides an 88% wider flat surface compared with an ordinary racquet for easier gripping, fast follow-through, and the sharpest maneuverability.
Power Assist Bumper
Attached to enforce heavier, increased power by configuring the weight directed into the shuttlecock with a tungsten-infused nylon bumper.