Product Description
The Voltric Z-Force 2 is Yonex latest improvement on the best-selling racket, Voltric Z-Force. The new Z-Force 2 has the thinnest shaft and improved TRI-VOLTAGE SYSTEM to increase smash energy. It is head heavier and more aerodynamic than the first generation Voltric Z-Force. As a result, the Voltric Z-Force 2 swings more easily with less effort while producing an incredible smash power.
Choice of Lin Dan, the all time greatest player of racquet sports, The Voltric Z Force II is one of the most popular racquets of the entire Yonex range.
Product Specification
| | |
| --- | --- |
| Expertise Level | Advanced |
| Weight (Grams) | 83 (+/- 2) - 4U |
| Balance Point | Head Heavy |
| Flex | Extra Stiff |
| Grip Size  | G4 (3.25 inches) |
| Frame Material | High Modulus (HM) Graphite, Sound Filter, NANOMETRIC, Tungsten |
| Shaft Material | High Modulus (HM) Graphite, EX-HMG, Nanometric |
| Stringing Advice | 22 - 27lbs |
| Gourmets | 76 |
| Racket Length | 675mm |
| Stringing Status | Company Strung |
|  Full Cover  | Yes |
PRODUCT TECHNOLOGY
 AERO+BOX Frame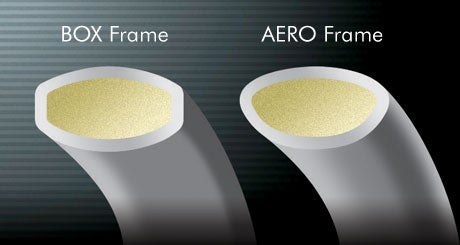 Aerodynamic contouring of the top of the frame minimizes air resistance so air flows faster across the curved surface during the swing, accelerating head speed and transferring more speed and power into hits. This construction tapers into the YONEX Box Shape midway through the frame for high stability, low-torque performance and more accuracy.
 ISOMETRIC
 
Enlarged Sweet Spot
ISOMETRICTM technology continues to help the world's greatest players achieve global success. Developed over 30 years ago, the ISOMETRICTM design increases the sweet spot by 7%*. Compared to a conventional round frame, a square-shaped ISOMETRICTM racquet generates a larger sweet spot by optimizing the intersection of the main and cross strings. ISOMETRICTM delivers greater control without sacrificing power. ISOMETRICTM is a Trademark of Yonex CO., LTD.
*Tested by Yonex.
 Control Support CAP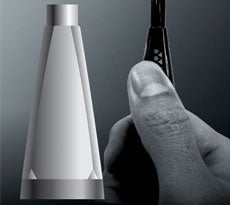 Sharp Maneuverability
The control support cap provides an 88% wider flat surface compared with an ordinary racquet for easier gripping, fast follow-through and the sharpest maneuverability.
 TRI-VOLTAGE SYSTEM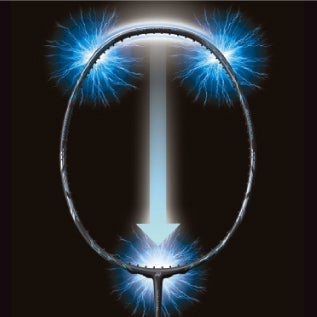 Smash with Instant Power
Traditionally, extra weight at the top of the racquet frame has increased hitting power but reduced the speed of racquet handling. In contrast, a lighter top to the frame increases speed but causes a loss of hitting power. For the first time, the new TRI-VOLTAGE SYSTEM successfully combines the contrasting characteristics of exceptional power and great handling. YONEX has developed a racquet which achieves the combination of heavy smashes and speedy racquet handling
Sound Filter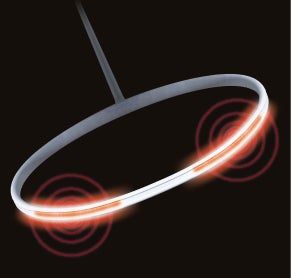 Eliminates Vibrations
Sound Filter uses new materials at the two and ten o'clock positions to reduce only high pitched and dull soundwaves. This produces a louder and sharper sound on impact to unsettle opponents, and provides a more aggressive tone to your game for a relentlessly attacking style of play. Sound Filter also reduces uncomfortable sensation from the racquet by rapidly eliminating 31% of vibrations.
 Built-in T-Joint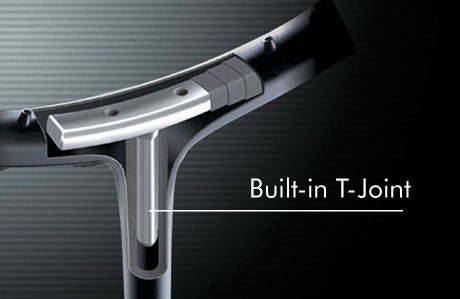 Moulded deep into the layers of graphite where the frame connects with the shaft, the YONEX Built-in T-Joint creates a durable and high-strength one-piece frame that is torque-free.
NANOMETRIC
NANOMETRIC* improves the bonding strength between the carbon fibres enabling us to take racquet shaft construction to another level. By reducing the amount of carbon in the shaft to make it 60%* thinner than a conventional racquet whilst retaining stiffness, Yonex has created a revolutionary lightweight racquet with lightening head speed and control.
*NANOMETRIC is the new material which applies the NANOALLOYTM Technology of Toray Industries, Inc.