Product Description
With a flexible shaft and 297 mm Balance point (Head heavy configuration), the Yonex Voltric lite 20 I Badminton racket is attacking players' choice, however, its weight is just 78 gms which could lead to some power loss but its Tri-Voltage System technology is designed to delivery added power on shots. As it is a lightweight racket (78 Gms), so it will be easy to maneuver thus helpful in counter-attacking means the player can quickly return the opponent's shots with lesser time. Frame material of this Voltric series racket is HM graphite while its shaft is made of HM graphite and non-material. Yonex developed this racket with high strength material which offers an outstanding weight to strength ratio as a result of this, the Player can maintain the string tension up to 30 lbs in this racket. (In normal rackets, if you reduce the weight then the strength of the racket will be reduced ) 
Voltric lite 20 i is conceptualized and developed with state of art technology known as the Try Voltage System. this technology is developed to improve the performance of the racket by adjusting the flexibility of the frame. The top frame part is developed with stiffer material so it bends in a controlled way thus transferring more power to the shuttle. While thinner sides of the fame offer better racket swing speed. So as a result, this racket provides both, powerful smashes and controlled drop shots to players.
Product Specification
| | |
| --- | --- |
| Expertise Level | Beginner |
| Weight (Grams) | 78 (+/- 2) - 5U |
| Balance Point | Head Heavy |
| Flex | Flexible |
| Grip Size  | G4 (3.50 inches) |
| Frame Material | Full Graphite |
| Shaft Material | Graphite / Tungsten NEO |
| Stringing Advice | 20 - 30lbs |
| Gourmets | 72 |
| Racket Length | 675mm |
| Stringing Status | Company Strung |
| Full Cover  | Yes |


Product Technologies

AERO+BOX Frame
Combines solid hitting feel and quick swing.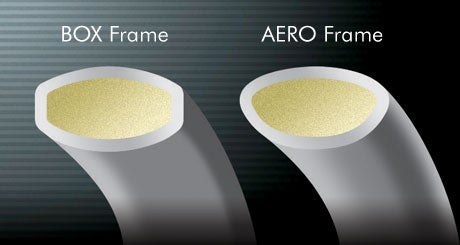 Aerodynamic contouring of the top of the frame minimizes air resistance so air flows faster across the curved surface during the swing, accelerating head speed and transferring more speed and power into hits. This construction tapers into the YONEX Box Shape midway through the frame for high stability, low-torque performance, and more accuracy.
ISOMETRIC
Enlarged Sweet Spot
ISOMETRICTM technology continues to help the world's greatest players achieve global success. Developed over 30 years ago, the ISOMETRICTM design increases the sweet spot by 7%*. Compared to a conventional round frame, a square-shaped ISOMETRICTM racquet generates a larger sweet spot by optimizing the intersection of the main and cross strings. ISOMETRICTM delivers greater control without sacrificing power. ISOMETRICTM is a Trademark of Yonex CO., LTD.
*Tested by Yonex
TRI-VOLTAGE SYSTEM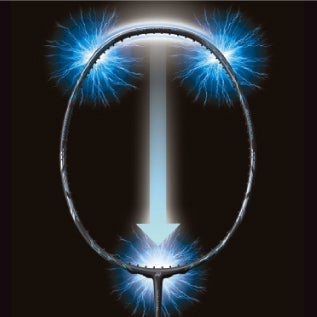 Smash with Instant Power
Traditionally, extra weight at the top of the racquet frame has increased hitting power but reduced the speed of racquet handling. In contrast, a lighter top to the frame increases speed but causes a loss of hitting power. For the first time, the new TRI-VOLTAGE SYSTEM successfully combines the contrasting characteristics of exceptional power and great handling. YONEX has developed a racquet that achieves the combination of heavy smashes and speedy racquet handling. Voltric is Power: The stiff racquet structure at the top of the frame allows the head to bend in a very controlled way and hold shuttles on the string bed for longer. The thin frame sides then allow the frame to flex more and transfer more energy to the shuttle. This combination allows you to smash with instant power. Voltric is Agility: In VOLTRIC, the weight is balanced on the top of the frame and at the joint area which allows good handling while also maintaining power. The thin sides of the frame and at the top of the head reduce air resistance and improve the handling even further. Players can now make a full swing even during short-range rallies as VOLTRIC responds instantly to even subtle movements.