Performance Enhanced: The popular doubles-concept racquets, ASTROX 88 S and ASTROX 88 D, are reintroduced with new innovations and materials crafted in for enhanced performance. ASTROX 88 S PRO and ASTROX 88 D PRO are designed to complement the evolving, faster style of doubles play, which requires even faster takebacks for continuous powerful attack shots. 
New advancements are made through the introduction of the VOLUME CUT RESIN, a groundbreaking resin that provides powerful adhesion with less material and weight. This resin is highly versatile in that it can increase durability and strength or reduce weight without compromising strength.
The ASTROX series are distinguished by the Rotational Generator System, our intricate weight distribution technology designed with the counterbalance theory that allows head-heavy racquets to recover faster between shots. By employing the VOLUME CUT RESIN, the new 88 S/D models have a further refined Rotational Generator System where intricate weight distribution can be taken to the next level.
Improvements*1 from the VOLUME CUT RESIN can also be seen in the frame and grommets. The frame structure is evolved with a larger sweet spot made possible by the strength-reinforced Isometric head shape. The grommets are improved with a new pattern that uses larger, strategically-placed grommets, a technology that allows more string movement at impact and ultimately increasing shuttle hold for assertive shot-making. The 88 S models, designed for front-court players, will have longer shuttle hold for precise net control and the 88 D models, designed for back-court players, will balance repulsion and shuttle hold for maximum power.
| | |
| --- | --- |
| Flex | Stiff |
| Frame | HM Graphite / VOLUME CUT RESIN / Tungsten |
| Shaft Composition | HM Graphite / Namd |
| Length | 10 mm longer |
| Weight Grip Size | 4U (Ave.83g) G5 |
| Color(s) | Camel Gold |
| Stringing Advice | 4U: 20 - 28 lbs |
| Made In | Japan |
| Item Code | AX88D-P |
Namd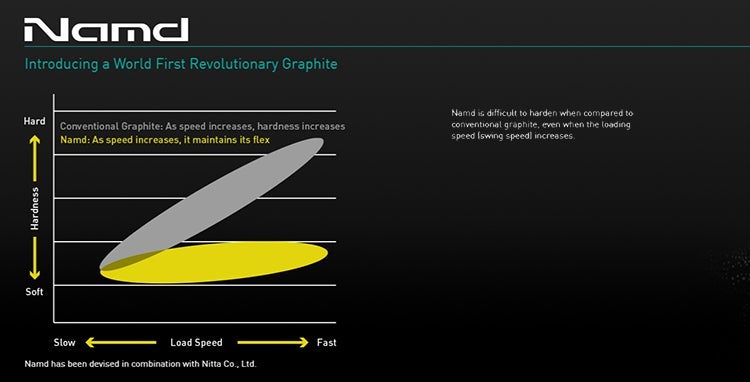 Revolutionary Graphite
A world-first, new dimension graphite material, Namd, greatly improves the adhesion of the graphite fibers and resin by attaching nanomaterial directly to the graphite fiber.In high performance racquets, it is common to combine nanomaterials with resin that connects graphite fibers, but in Namd, nanomaterials are directly adhered to the graphite fibers and resin is greatly increased. This major improvement produces a shaft that flexes and stores energy, delivering explosive force on impact with the shuttle.
Rotational Generator System

Counterbalanced Weight Distribution
By applying the counterbalance theory, weight is distributed throughout the grip end, frame top and the joint for maximum control. The transition to the next shot can be performed smoothly, with rapid succession.
Energy Boost CAP PLUS
Uniquely shaped cap which maximizes shaft performance.The front allows the shaft to flex, while the sides arch-shaped curve stabilizes the racquet face by preventing the shaft from twisting.