Top 2018 Tech Suits Reviewed 
2018 Women's Tech Suit Reviews
by Julie Stupp
If the performances last year at the 2017 World Championships and early this year at the Olympic Winter Games in PyeongChang have you extremely excited for Tokyo 2020, then this year's tech suits should double your enthusiasm!
Mark and I are back for the sixth year in a row to review the most advanced tech suits of 2018. This year's suits are on the opposite end of the spectrum in comparison to last year's cost-friendly options, where we reviewed suits under $150 for the first time as part of our annual testing.
Let me tell you: the 2018 batch of suits did not disappoint! Each tech suit was created with hours of research, high levels of investment, countless expert opinions and many wear tests from the top athletes in our sport. The science that went into each of these suits is nothing short of amazing. Every year tech suit companies raise the bar in fabric production, fit and technology, and each year I am amazed at the results.
One continuously overarching problem with female tech suits is the issue of fit. There are so many body types and yet only a singular prototype makes the final cut. The issue of fit is even greater due to female body composition. Most female athletes have hips that are wider than their chest, which creates a huge challenge for tech suit companies to overcome. If a swimmer has to put on and take off a suit more than once, the fabrics will naturally stretch creating a loose chest, extra drag and zero compression. This year's suits really address this issue of fit, and I feel like there is now a suit out there for every swimmer's body.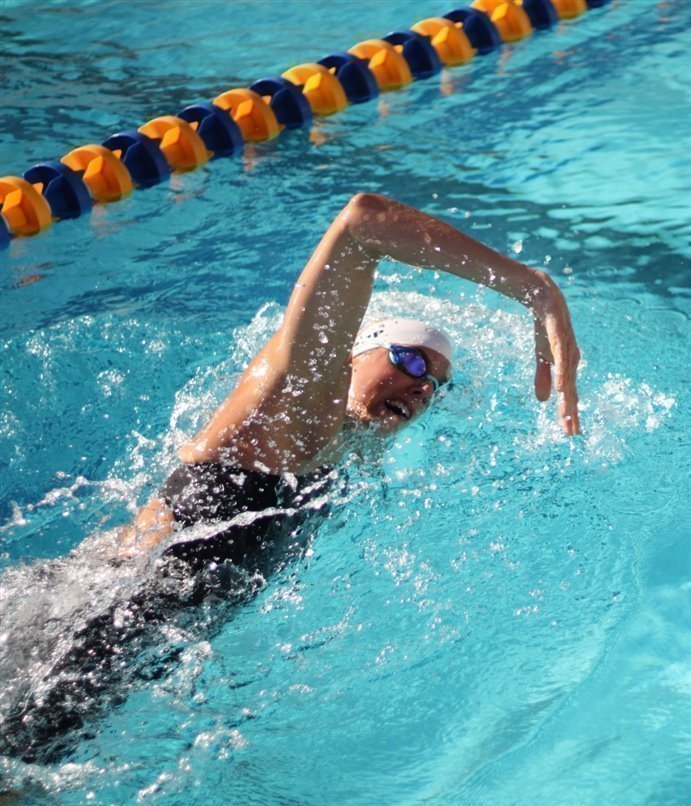 The 2018 Trend 
Science and research led the way this year. Science-driven data was used by all of the tech suit companies to create a better fit and a superior physiologically performance while racing. All of the companies I spoke with reiterated the fact that each of them went back to the drawing board to see how they could help swimmers legally get faster. And the result was to continually improve the fabric technology. The fabrics this year are absolutely amazing and all support the body to naturally perform better. They have all been thoroughly researched, tested, re-tested, adapted and perfected for top pool and open water performance. Some of the testing buzz words or phrases I heard the most this year included, "increased durability," "multi-directional stretch," "ability to glide through the water faster," "instant recovery enhancements," "power and energy return," "intelligent fabric," and "graduated compression." These tech suits will not only make you faster in the pool, but can make you a wiser athlete, as well.
The six different brands we spoke with have a plethora of information posted on their websites about the intricacies of the fabrics, the different studies they performed, the results they wielded and the final technological advancements they ended up with. All of these were used and incorporated into the tech suits in order to enhance your natural speed in the pool. I encourage you to take some time to read the data and educate yourself in order to truly find the right suit for you.
As I wrote, the suit companies are trending towards more compression and extremely technical fabrics. The result of this is that they are also much harder to put on and are getting more expensive with every new product cycle. Each of these suits -- with the exception of arena -- took me at least 20 minutes to try on while I was dry. Long gone are the days of the five-minute deck change before your race. Be forewarned, take your time and dry off before you put on one of these racing suits, otherwise you may be throwing $500 down the drain with a torn suit.
DOLFIN LIGHTSTRIKE OPEN & CLOSED BACK $500.00-$550.00
Size 28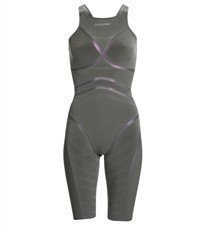 Size/Fit
Customization is the name of the game when it comes to the fit of the Dolfin LightStrike. Dolfin found that they had complications with the fit of their last suit – the Titanium – so they decided to make that their number one priority when designing the female LightStrike. They did all sorts of testing with 3D scans, ultra-sonic body mapping and wear tests with college swim teams across the country in order to find the perfect fit for every female swimmer. The result of all this testing is customizable sizing or plenty of options. Women have the choice of two different chest options, regular and full, two torso lengths, regular and long, and lastly two variances in leg compression, tight or flex. With all of these choices there is bound to be the perfect-fitting LightStrike suit for every body. I chose to test out a regular chest, regular torso closed back flex leg suit and a regular chest, regular torso, open back tight leg suit. This suit is definitely tight, it takes time and patience to get on with all of the seams, but it is worth it, the fit was fantastic. The suit is very compressive in the chest, hips, legs and butt and feels very sturdy once it is on. This suit doesn't leave a lot of wiggle room, so choosing your sizing correctly is definitely important – but you have multiple options and that's the key.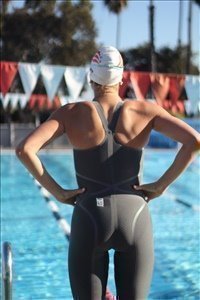 Material
Dolfin not only spent time and money researching the fit, but also on the fabric – and it shows. The LightStrike is made of an extremely durable fabric supported by inner and outer seams that weave an intricate design. This design is not purely for looks, it is much more concentrated and scientific. The seam design was created specifically for zoned compression, core support and maximum power to weight ratio while competing. The zoned compression is felt the most throughout the chest, hips and butt and there is a more graduated compression felt on the inner thighs allowing for more flexibility and freedom of movement. The LightStrike core support system is my favorite of the 2018 bunch. The Dolfin, "Chassis Concept," is a combination of inner and outer seams that compress the ribs and core and allowed me to feel supported and lifted while swimming at top speeds. It is definitely a tighter fitting suit, which I prefer when racing.
Performance
The LightStrike performed really well in the pool. I felt a ton of compression throughout my ribs, core and hips and felt like I was slipping through the water effortlessly. Because there are so many fit options, and you have the choice of open or closed back suit, it is great for every single stroke. The durable LightStrike fabric combined with the inner shell, outer seams and taping all create a really sturdy race suit that will last use after use, but at times I felt like there was a lot going on. There are countless different seams and while I understand and appreciate what they are there to do, I felt a bit constricted in the suit after 30 minutes. The LightStrike is a super elite tech suit that is great for racing, but due to its high level of compression wouldn't be comfortable to wear for long meet sessions.
Summary
Pros: Customizable fit, ultimate core compression and extreme durability make the LightStrike top of the line.
Cons: I felt a bit constricted with all of the seams and the price is nothing to sneeze at.
Grade: A
FINIS RIVAL OPEN & CLOSED BACK $439.99
Size 28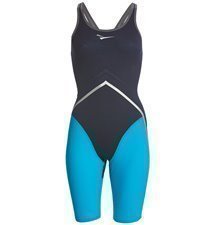 Size/Fit
The FINIS Rival has a much different fit and feel compared to the FINIS Fuse and Onyx that I reviewed back in 2016. The cut of the Rival is on par with the other top elite tech suits on the market. FINIS worked with some of the fastest athletes in the world to find the perfect fit for high-end speed. Along the way they created and released their own version of the powerback, while adding a split back strap construction that allows for flexibility and comfort. The Rival sits pretty high on my neck and fits long in the legs making it a great option for taller swimmers. It also feels a bit different on because of their inner seam design. It was specifically designed to sit much higher on the hips compared to other brands, this allows swimmers to feel extra compression, support and a sense of being locked into proper position for the ultimate body alignment. Overall, the Rival fits really well.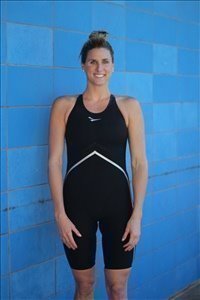 Material
FINIS along with the rest of the tech suit companies got extremely innovative when it came to their fabric. FINIS created a two-fabric system to maximize compression without sacrificing freedom of movement. The smooth fabric on the quads, hamstrings and inner thighs is a one-way stretch material that only stretches vertically creating the ultimate compression, while the textured fabric is a two-way stretch material that allows for equal movement vertically and horizontally. This gives the swimmer the ability to move freely throughout their strokes with a large range of motion. The Rival also has three different types of seams that complement the two fabrics. The durable black seams on the outside of the suit welds the fabrics together, the silver accent tape on the outside of the hips and core aids in compression and the thick yellow reinforcement tape on the inside of the suit locks the hips and lower abs into place.
Performance
I felt amazing in the Rival. I loved the combination of the two fabrics, because I could tell that they worked really well alongside the seam system to support my core and hips. The fabrics and seams ultimately raised my hips in the water allowing me to maintain a higher and more efficient body position in the water. I could definitely feel the freedom of movement in my upper abs and hips, which is great for undulation and racing all four strokes, but I really wish there was more compression throughout the chest. I felt the Rival lacked the compression where a lot of women like me need it the most, and I feel like without their new powerback design the suit would lose its compression throughout the neck and chest after a few uses.
Summary
Pros: The high hip seams and lower abs compression were not only super comfortable, but also highly effective.
Cons: For my taste, I wanted to see a bit more compression throughout the chest.
Grade: A-
JAKED JKOMP $419
Size 26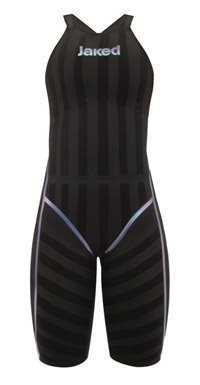 Size/Fit
The Jaked JKOMP fit extremely well. I have worn some Jaked suits that have fit really well and some that have completely fallen short, so I didn't know what to expect with the JKOMP, but this suit happened to be perfect for my body type. The JKOMP takes a little bit of time to put on, but isn't bad because it is also made of a thinner more lightweight fabric similar to the Funkita Apex Predator. The JKOMP has super-thick and durable shoulder straps that are connected to a new thin backstrap design that is comfortable yet compressive. I wouldn't wear these shoulder straps for too long though, they are definitely tight. The JKOMP sits about mid-neck and chest and mid-leg making it a great option for a range of athletes. Jaked is usually spot-on with their sizing, and the JKOMP is no different. I have worn a 26 for years in their suit and the JKOMP fit true to size.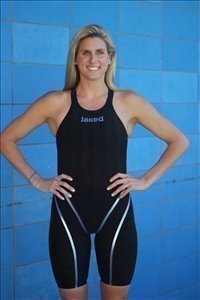 Material
Jaked like the rest of the tech suit companies put a lot of research and science into creating this year's tech suit. Jaked is primarily a European brand out of Italy and we don't always get to speak with someone on their team, but this year Mark and I had the opportunity to connect with the product experts at Jaked. The JKOMP features a 3D compression system that offers a graduated compression design running in multiple directions across the body. All of this means that there are two different levels of compression throughout the suit's fabric. The lighter grey material allows for medium compression, while the darker black material allows for hard compression. This combination of medium and hard compression running vertically and horizontally around the body allows for increased blood circulation and oxygen to the muscles, which helps them to break down lactic acid faster. This intelligent fabric acts in the same way as a recovery sock that compresses the muscles to help aid in swelling, fatigue and faster healing.
Performance
The JKOMP performed extremely well in the pool. Not only did I feel compressed by the 3D graduated fabric, but I also felt locked into the suit by the bright iridescent external tape. The taping runs around the hips and down to the quads and across the butt, allowing me to sense exactly where my hips and butt were in space. This is important for all swimmers because when we get tired in races our hips, legs and butt tend to sink, and in turn significantly slowing down our speed and momentum. The only thing the JKOMP is missing a substantial core compression panel. There are a few seams that run across the midsection on the inside of the suit, but I would have loved to have seen better design. Overall, this is a top tier tech suit and a perfect fit for my body type.
Summary
Pros: From the fit, to the comfortable compression, to the technical taping the JKOMP hit every top mark.
Cons: The inner core seams were subpar in comparison to the rest of the suit's high tech features.
Grade: A+
FUNKITA APEX PREDATOR $410
Size 26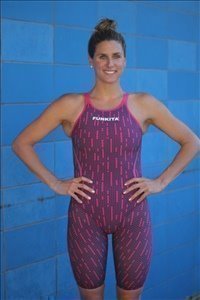 Size/Fit
The Funkita Apex Predator was the biggest surprise of the 2018 review. Both Mark and I agreed that we were not expecting it to be one of the top performers and we were both wrong. The old Apex Stealth from 2016 missed the mark on fit and function, but Funkita nailed it with the Apex Predator, which is hitting SwimOutlet's warehouse in May. They gathered intel from Australian national team swimmers with over 100 hours of in-water testing, sizing and surveying just how the suit fit a variety of athletes. The result is a super long fitting suit that covers a lot of skin. The Predator sits high on the neck, wide on the chest and high on the low back. This gives a really strong sensation of sucking you in. The Predator is not easy to put on because it is quite compressive, the material is thin and it suctions to the skin really well. Once the suit is on and you jump in the water you can adjust the fit a bit more, it is important to get the side and hip seams up high enough on your body for the proper fit. For the Funkita Stealth, I wore a size 28 and it was too loose, I sized down to a 26 for the Predator and it was just right. I would suggest going down one size in the Predator for the perfect fit.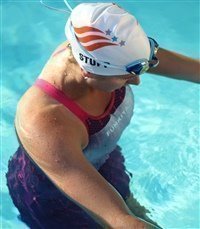 Material
Funkita completely changed the fabric and style from their first-ever elite tech suit in 2016 to create a much more high tech Predator. They designed a lightweight woven material that allows for a four-way, 360 degree stretch. This fabric gives the sensation of an all-around, even compression throughout the entire suit. It sucked me in, yet I had the mobility and movement I needed to swim all four strokes because the material is so thin. The Predator has just one layer of material covering the legs, low back and sides and a dual layer covering the chest, core and butt. This dual layer is great for a little extra compression and modesty, but the suit lacks a core compression system all together. I would have loved to have seen a core compression panel or some extra seams to support and lift my ribs and core a bit more in the pool.
Performance
The Funkita Predator felt amazing in the water, the combination of the lightweight, super-compressive material and the minimalistic seam design allowed me to slip through the water at high speeds without feeling hindered by the suit in any way. The side and hip seams also lifted my hips and butt ultimately helping me to better sense my body position and alignment in the pool. This sensation is not only important while swimming, but also for the starts, turns and under-waters. Funkita has established their brand as a leader in bright colors and fun designs and the Predator is no different -- but this time the suit also felt great and performed as a top tech suit.
Summary
Pros: Lightweight, paper-thin material that gives an all-around full body compression.
Cons: All that the Predator is missing is a core compression system.
Grade: A
A3 PERFORMANCE VICI OPEN & CLOSED BACK $399
Size 26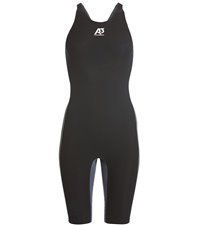 Size/Fit
A3 tested over 140 versions of the VICI to find the right fit for the women's suit, because they felt the old Legend from 2016 lacked integrity in the fit of the chest. Many suits including the Legend stretch out after you pull them over your hips time and again. The result of all of A3's testing and manufacturing over the past few years is an excellent fitting VICI! The suit has plenty of compression throughout, but also allows for freedom of movement in the hips and back. I wore a size 30 Legend, but a 26 in the VICI open and closed back, so I would definitely suggest going down one size from your normal racing suit. Having the choice between an open and closed back suit is the best of both worlds, especially since A3 is known for their powerback. The powerback is A3's style of open back suit, but it has a thicker backstrap that covers more skin and compresses more of the upper back and lats. The only part of the A3 fit that I didn't like was the seam on the inner thigh. The grey material in the crotch extends to a portion of the inner thigh and is bonded by a seam to a different fabric than the rest of the leg. The oddly placed seam runs horizontally and doesn't stretch as fluidly while swimming breaststroke.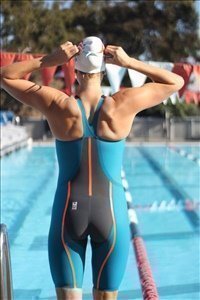 Material
A3 is known for their high-quality fabrics and the VICI is no different. A3 began creating a material called Bodimax several years ago and has a patent pending for their design. Bodimax is a highly intelligent fabric that aids in muscle recovery, decreases lactic acid and increases oxygen to the muscles through Far Infrared energy. Bodimax is woven into the suit's material and then the blended fabric is specifically placed on the swimmers body to increase performance in the pool. The grey fabric is the only fabric that doesn't include the Bodimax material and it is a one-directional stretch fabric to enhance compression. This one-way stretch fabric along with the inner thigh seam is probably why I felt a bit constricted swimming breaststroke. A3 spent a lot of time, money, and manpower researching the fabrics for the VICI and I can definitely feel the quality of fabrics while swimming.
Performance
The VICI performed very well in the pool. The closed back version was the perfect blend of compression and flex, while the open back suit provided me with even more movement while swimming all four strokes. I felt fast, buoyant and like I was effortlessly gliding through the water due to the high-tech fabrics. Both suits also have the proflex straps that have a section of soft felt on them. This genius invention makes a tech suit easy to wear for longer races and longer periods of time on deck without wearing out your shoulder muscles. The A3 core compression technology was supportive yet comfortable. There are seams that run just under the chest and a few multi stretch seams that run across the rib cage allowing your lungs to expand and contract while still keeping your core supported and lifted. The VICI is a very well thought out design and will not go unnoticed while racing.
Summary
Pros: The high-tech, super forward-thinking fabric is the way of the future. It is especially attractive at this price point, which bumps it up to a notch from an A to A+ grade in my book.
Cons: The inner thigh seam, created an awkward pull.
Grade: A+ (gets an added plus if you factor price)
ARENA R-EVO ONE $300
Size 28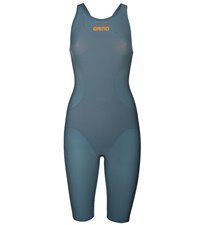 Size/Fit
The Arena R-EVO is a mid-level tech suit, meaning that it does not have all of the bells and whistles of say the Carbon Series, the Arena brand's well-known line of top tier compressive suits that have led the way with new technologies. That being said, the suit fit quite well and is most similar to the Carbon Air. It feels like a second skin when it is on due to the minimalistic design and seam construction. It's the perfect tech suit for a beginner racer or Masters swimmer looking for comfort over maximum level compression. It has a high neck and a comfortable back strap construction, which is important for longer swim meet sessions. It is a bit on the shorter leg side; it hit me mid-quad and has more skin exposed in the back. All of these details are attributes of a suit that appeals more to the masses and is less aimed towards the elite swimmers. It was by far the easiest suit to put on because of the lightweight stretchy fabric.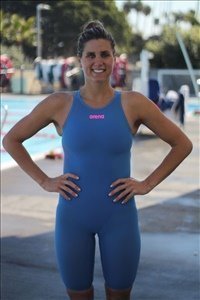 Material
The R-EVO is unique in that it is made from one singular piece of fabric in contrast to multiple pieces of different fabric bonded together by seams. The R-EVO doesn't have any seams on the outside of the suit, they are all housed on the inside and sit on top of your skin. This is advantageous when it comes to drag because there aren't any seams or ridges to slow you down in the pool. This one piece of fabric also gives you an even stretch across the board, but lacks maximal compression in important areas like the chest, hips, butt and legs. The woven fabric of the R-EVO is super comfortable and feels great on in the pool; it just misses the high tech features in comparison to the elite suits in the 2018 review. In this sense, the R-EVO probably belongs in a different testing category then these high-end suits but Mark and I felt it was important to highlight all of the offerings for 2018
Performance
The R-EVO performed well in the pool, it was comfortable, quick drying and quite hydrophobic, but it did not have the top-level compression I am used to from other Arena tech suits. Of course, there are three Arena suits above the R-EVO that fill this space. It gave me tons of flexibility when swimming breaststroke, flip turning and dolphin kicking, which is an awesome feature for beginning racers who must stress the importance of good technical habits. Once you master swimming technically perfect at high speeds, having a suit that is more constricting will not hinder your technique.
Summary
Pros: The one-piece fabric allows for maximum flexibility and comfort. Great all-around suit that fills an important gap below the Carbon Series.
Cons: The mid-level compression left me wanting more, especially for $300. I gave it a B- because of its relatively lower level of compression compared to this group of suits but the R-EVO would score much higher in a comparison test of mid-price point suits.
Grade: B- (Editor's Note: Grades are given in comparison to other suits in this review)
2018 Men's Tech Suit Review
by Mark Gangloff
During the 2017 Tech Suit Review, Julie and I went over tech suits that were below the $150 price point, meaning the suits we reviewed were very good, but not necessarily the manufacturer's top of the line suit.

This year, with the exception of the Arena R-EVO One, we are back to reviewing the manufacturer's top of the line products. Many of the suits in this year's review will be worn by the best swimmers in the world at meets like NCAAs, USA Swimming Nationals, World Championships or other top international competitions.

Even though this is my sixth year of reviewing suits, it is exciting to see that manufacturers, though they have a long list of FINA regulations to work within, are continuing to work hard to improve their suits.

There are some commonalities with the suits in this year's review. All of the suits have seams that have a high-quality bond (glued) where two pieces of fabric meet together. Subsequently, you will find very little stitching (thread) if any in the suits, which is a significant departure from the 2017 Tech Suit Review, when we featured stitched suits.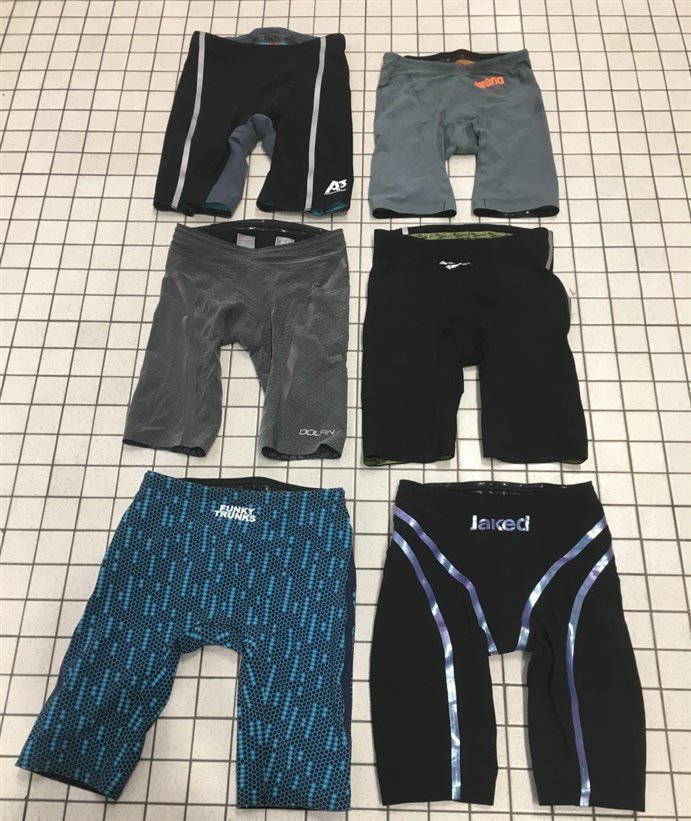 In addition to the bonding process, you will see taping along those bonds to reinforce the strength of those bonds and also helps give the suit a little more structure and shape. The bonding and taping is a high-end process that allows brands to customize the cut and fit of the suit, which is why it is found more frequently in these top tier suits.

A new technological feature that you will see in this year's suits is a one-way stretch fabric. Historically, the fabric in a suit will stretch evenly in all directions but with "one-way stretch technology", the stretch in the suit can be customized depending on the manufacturer's goals.

Some suits will have more vertical stretch and some suits will have more horizontal stretch.

Conversely, some suits will have more vertical compression and some suits will have more horizontal compression. This feature, along with making adjustment to the cut of the suit, allows manufacturers to be very specific with what they intend for their suits to perform and feel like. For me, the reviewer, my job gets a little harder every year to feel out all of the small details put into these performance machines.

One thing I will not be speaking to this year is the hydrophobic coating in each of the suits. All of these suits have hydrophobic coating on them and they each repel the water incredibly well.

Like in past reviews, I use three criteria when reviewing each suit 1) size/fit; 2) material; 3) performance. When reading this there are a few things to remember:

1. Everyone has a different body type. I am a 215lb. man with a lot of lower body mass. If your body composition is different, a suit that is too tight on me may not be too tight on you.
2. People look for different things in their suit. I like suits with more compression, which means I cannot leave it on for long periods of time. If you want 'comfort' (ability to keep the suit on for a long time) and more range of motion look for a suit that I rate higher on comfort.
3. Ask yourself or your swimmer, "What are the most important things incorporated in a tech suit?" After you know what you want, reading this review will help you make the right choice but there a lot of other resources you should look at: size charts, brand websites and public product reviews and comments.
FINIS RIVAL $319.99
Size 28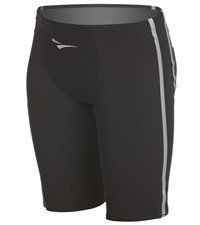 During the design of the Rival, FINIS collaborated with some of the world's top swimmers, including Anthony Ervin, James Guy, and Olivia Smoliga. The main design focus of the Rival was to put together a suit that locks and lifts the hips into perfect body alignment. Like some of the suits in this review, the Rival has several different fabric types and panels throughout the suit for specific design features.
Size/Fit
I wore a size 28 for this review and I would say that this suit fits true to size. Overall, I would consider this suit to have medium overall compression. There is a lot of paneling down the backside of this suit that smoothens out the contours of my hips and butt. The paneling consists of two types of fabric. There is a textured fabric that stretches in all directions and some smooth fabric that has the 'one way stretch' technology incorporated. The smooth material in this suit, has less vertical stretch than horizontal stretch designed to help with blood flow. This material is placed on the inside of the legs (and other parts) because this is an area of the body that can use some 'tightening up'. In the crotch, there is some textured fabric that runs up the butt that allows for a lot of flexibility when doing breaststroke kick and feels really good. Overall this suit fit very well.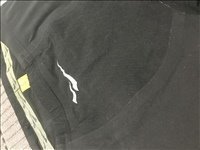 Material
With a blend of 66% Polyamide/ 34% Elastane, the smooth fabric in this suit will feel very similar to what many of you are accustomed to when feeling a tech suit. The textured fabric is slightly raised but similar to the Dolfin, it smoothens out quite a bit once the suit is on. See Picture
Performance
I like this suit a lot. It performs very well. The biggest plus to this suit is the seams that run down the butt and back of the legs. I like that this smoothed out my butt and hips and I did feel a little lift in my legs from the seams giving me a little better body line. As for the textured fabric, I like the effect of having parts of the suit have more stretch, but I don't love that fabric is raised. Maybe that's a personal thing though, some may like the texture!
Summary
Pros: Smoothens out my hips and butt
Cons: Ripped the drawstring hole when trying to tighten the suit.
Grade: A

 
DOLFIN LIGHTSTRIKE $300.00-$350.00
Size 28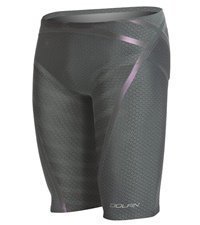 Dolfin is historically known for its training suits, but recently has invested a lot more into the technical side of their race products. With the help of industry veteran, Matt Zimmer, Dolfin has greatly improved their tech suits and are looking for even more out of the Dolfin LightStrike. The primary focus of the LightStrike is custom sizing, because Dolfin understands that the fit can make or break a suit. During a call with their product experts, they highlighted the two versions of the LightStrike: 1) High waist/tight legs and 2) regular waist/flex legs. While not vastly different from what other brands have done, this does signal that Dolfin is committed to creating the right suit for the right body type. Based on how much material can be used, there are limits what can be done with a men's jammer, but you will see in Julie's review that Dolfin has put forth additional options for the women.
Having larger legs and needing more flex for my breaststroke, I am reviewing the suit with the regular waist and flex legs. If you are looking for a suit that has tighter legs and a higher waist, Dolfin has that option, as well.
Size/Fit
For this review I wore a size 28 and this suit fits extremely tight. As you know from my writings, I love a highly-compressive suit, but I was initially worried that I would not get the suit over my hips. The overall compression was high, but not too high, my issue was getting the waist hole over the widest part of my hips. After some work (15 minutes worth!), I got the suit in place and it felt okay, but after some moving around in the pool and pulling at the suit, I felt like the size 28 fit extremely well. It is common for a tech suit to form to your body as you wear it; it is also common for a tech suit to feel better when you wear it a second time. The LightStrike will form well to your body, just be patient and careful when making adjustments as you wear it. It also felt much better during my second wear.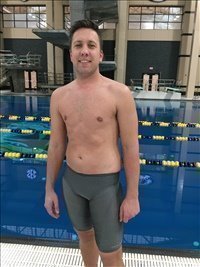 Materials
The LightStrike is an interesting blend of materials using 42% Polyamide/31% Polyester/ 27% Elastane. As you can see from the photo the pattern woven into this suit is unique. It almost has a star shape to it, and is designed to create a lot of compression. This design feature works. To the touch, you can feel that the fabric is slightly raised, but it smoothens out quite a bit when it is on.
Performance
Once in place, this suit is compressive in all of the right ways. It locks your hips in place, yet it does not over-constrict your legs. The patterned stitching works well for compression, but is slightly raised to the touch. The pattern stitching smoothens out quite a bit when you put the suit on, but is not quite as smooth as some of the other fabrics within this review.
Summary
Pros: Compression, custom sizing
Cons: Compression, custom sizing – this can be both good and bad because you may have to try a couple versions or sizes to get your perfect size.
Grade: A/A-

 
A3 PERFORMANCE VICI $299.00
Size 28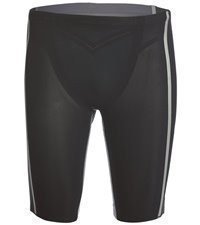 In 2016, I was pleasantly surprised with my first A3 product review, so this year when I saw that I would be reviewing the A3 VICI suit, I was very excited to see what the new A3 VICI had to offer. Before testing, I was able to speak with Dan Meinholz, A3's Founder & CEO, to get more information about the VICI. I could feel his excitement and pride through the phone, when he was speaking about the features of the VICI.
Size/Fit
During this review, I wore a size 28 and I would say it is true to size. Putting this suit on was not easy, but once I had it in place it felt great. Like many of the elite tech suits on the market, I would say this suit has medium to high overall compression, which I like. The suit was not restrictive when going through all of the strokes. A3 did go with a slightly higher cut, meaning this suit hit at the top of my hip bones. Again, this is a design feature that I personally prefer and others may not.
The leg holes are very comfortable without being overly constrictive. A3 is one of the companies that opted to use the one-way stretch technology to create a custom fit in this suit. The gray fabric has almost no horizontal stretch and that really compresses the hips. The black material and the lining have A3 Bodimax Technology in it, but for this review I will not be speaking specifically to the Bodimax Technology. What I will say is this material has more stretch and allows for ample range of motion.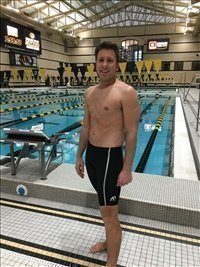 Material
The outer shell is made up of 60% Polyamide and 40% Elastane, while the inner lining is 66% Polyamide/ 34% Elastane. To the touch, this material feels a little thicker and holds its shape very well, but I would never say this is a "thick" suit. I would make the comparison to feeling a starched shirt vs a non-starched shirt. A starched shirt is not thicker than a non-starched shirt; rather it just holds its shape better.
Performance
Like I said in the sizing section above, the gray material in the suit has very little horizontal stretch, which compresses the hips. I love this aspect. I am always looking to get one of the widest part of my body squeezed down as tight as possible without limiting the range of motion. Putting both the 'one-way stretch' gray fabric with the black fabric with the Bodimax technology give you the compression you need, while allowing you to move through the strokes with ease.
Much of the testing that went into this suit was done in a static position, meaning the tester was not moving in a 'static' streamline position without any additional propulsion or movement. This is a critical test for any suit manufacturer to do because fast swimming includes so much time spent when doing starts and turns in a static position. Bottom line: it was time well spent for A3 because it worked. I felt great leaving the blocks and the wall. The suit helped me hold my speed longer.
Summary
Pros: High Compression in the hips, high cut suit
Cons: None, this suit was spot-on for my taste
Grade: A+

 
JAKED JKOMP $286
Size 26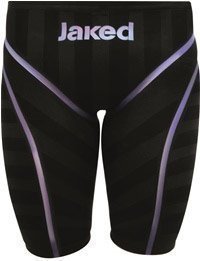 Jaked is an Italian brand that has been around for almost 10 years and came into existence during the super suit (polyurethane) era. Since the banning of the super suits, Jaked has worked hard at crafting some really great textile suits. My understanding is there are a couple of places in the world in which swimsuit fabrics are made. One of them is in China and the other is in Italy, where Jaked is based. In this JKOMP, Jaked has utilized fabrics with different levels of stretch and compression to get their desired effects – like many of the suits in this 2018 review.
Size/Fit
Jaked is a brand in which I have to size down. As you know, I wear a size 28 in most suits, but for Jaked I wear a size 26. Similar to Arena, having to size down runs across various different Jaked suits. My 'Jaked size' is 26. If you know your 'Jaked size', stick with that number because it is consistent over different styles of suits.
This suit felt good when putting it on. I would say it took me about five minutes, which means it is not overly compressive. Overall, I would say this suit has medium levels of overall compression. It does have a seam and taping running down the front of the quads which makes your quads feel compressed and the same goes for a seam running down the back of your legs/ hamstrings. Having the seams on the front and back makes the suit comfortable because your iliotibial band (IT) can get irritated from the combination of racing and having a thick seam running down the outside of the leg. Overall, I like slightly more compression in the legs, but it was certainly adequate for fast racing.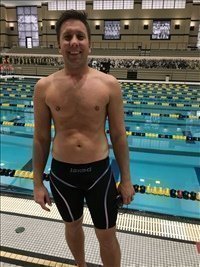 Material
This suit is very thin and light and even has some Carbon in its material at 67% Polyamide/32% Elastane/1% Carbon Fiber. Looking at this suit you will see it has some stripes, like an old Speedo Aquablade. The darker stripping is fabric that is woven tighter to have less stretch and the lighter stripes has more stretch. Unlike the FINIS, which uses different panels to create different levels of compression, the different levels of compression in the JKOMP happen within the same piece of fabric. Additionally, the lines run horizontal to the body which give the suit slightly more horizontal stretch; in combination with the seaming, that gives the legs less compression than some of the other suits reviewed here.
Performance
This suit feels fast and light in the water. As I went through all the strokes, I was pleased with the range of motion I had. Though I like more compression in my suits, I felt I was not at a disadvantage for not having more compression. Having different levels of compression within the same piece of fabric is state of the art and I am sure most manufactures will use this technique moving forward. Unfortunately, I could not feel those variations in fabric stretch. I am excited to see where this technology goes. 
Summary
Pros: Light material and comfortable
Cons: Lacks some leg compression
Grade: A

 
FUNKY TRUNKS APEX PREDATOR $235 
Size 28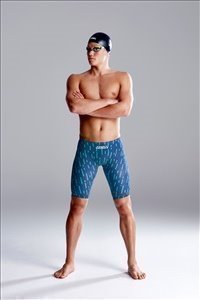 Funky Trunks is a brand out of Australia that is well known for their bold style and chlorine-resistant training swimwear. Originally known for their training suits, Funky Trunks is willing to go head to head with some of the biggest suit companies in the world to try and get one of their tech suits on the blocks in Tokyo in 2020. I absolutely love brands like Funky Trunks because they are eager to compete with the 'traditional' brands on the market. You can see their competitive spirit come through in this Apex Predator, which is due to retail on SwimOutlet.com in May.
Size/Fit
I wore a size 28 for this review and this suit is true to size. Like most good tech suits it took me about 10 minutes to get into this suit but it felt very good once I had it all in place. I would say that this suit has a medium to high level of overall compression. I would say that the leg portion has slightly less compression and the hips had more compression. I like this because my hips and butt were compressed down but my legs were free to move and there was no noticeable decrease in circulation. This suit has a very simple design with large panels of fabric in the front and the back.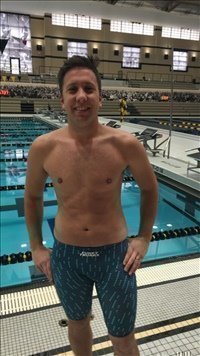 Material
Similar to the A3 review here, this suit holds it shape well and that could be a result of having different shell and liner material make-ups with the shell 70% Polyamide/ 30% Elastane and the lining 73% Polyamide/ 27% Elastane. Without being 'thicker,' this suit does feel thicker because of its ability to hold its shape.
Performance
This suit was by far the biggest surprise of the group. In the locker room this suit felt good and tight, but not super special in any way. After diving in, I was shocked on how well I moved through the water. I almost made it to the flags on the far side of the pool without any propulsion. This is only a couple of additional feet in distance, but this can make a big difference when you are really hurting at the end of a race. As I was swimming and pushing off the walls, I felt that I was maintaining my speed without having to add a lot of additional effort.
It may be that my body type is similar to the silhouette used when making this suit, but it just felt good being in this suit. There is something about a simple design done well that can create high performance.
Summary
Pros: Style, comfortable and kudos for simplicity
Cons: None for my body type and preferences
Grade: A+
ARENA R-EVO ONE $200.00
Size 30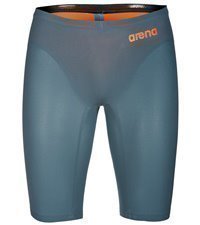 Arena has been a mainstay for the tech suit reviews over the past six years and a leader in the tech suit space. After speaking with the global product manager at arena, they wanted to make it very clear that the R-EVO is not designed to replace arena's Carbon Series. The R-EVO is designed for those that are looking at a slightly lower price point, but are still looking for a very good suit. In that sense the R-EVO is more of a mid-price point, higher than last year's test, but below the top-end suits featured here. Keep in mind when reading this review that some of the things that are my personal preferences may not line up exactly with arena's development goals for this particular product. That does not mean this is not a good suit, rather my personal preferences and product expectations line up more closely with some of the product in the arena Carbon Series.
Size/Fit
Like many of the other Arena suits I have worn in past reviews, I had to move up to a size 30 for this review. Having to size up is typical across most arena suits for me. If you know what size you are in other arena suits, you can trust that your 'arena size' will be the same for the R-EVO. In comparison to some of the other suits in this review, I would say this suit has light to medium levels of overall compression. As you already know, I like high compression suits, but the fact that the R-EVO One is not highly compressive is not a mistake. Rather, this is just part of the product design aiming at consumers looking for something a little different. Once I put this suit on, I really liked how it felt. It is very comfortable and moves with your body during each of the strokes.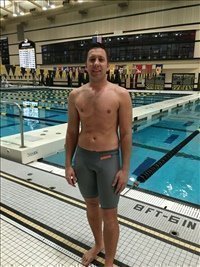 Material
As you can expect, this suit has lower Elastane percentage at 78% Polyamide/22% Elastane. This material feels very light and stretchy due to the higher levels of Polyamide woven into the fabric. It is soft to the skin and moves well with your body, but is not highly compressive. This is the thinnest suit in the review, which can be a design plus if that is what you are looking for. Unfortunately, the drawstring was very short and I was a little concerned that I may lose it when putting the suit on. That did not end up happening, but it was something I had to watch out for.
Performance
Overall, I was quite pleased and even surprised with the performance of this suit. Diving in, I felt that I moved well through the water in the static streamline position. I was able to move through the strokes exactly like I wanted to. The good thing about this suit is that it is comfortable. If you or your athlete is looking for a tech suit that you can wear for long periods of time and get reasonable high performance at the same time, absolutely consider this one.
Summary
Pros: Very comfortable, price. Fills a niche that many might be looking for.
Cons: Short drawstring, lacks compression of top tier
Grade: B (Editor's Note: Grades are given in comparison to other suits in this review)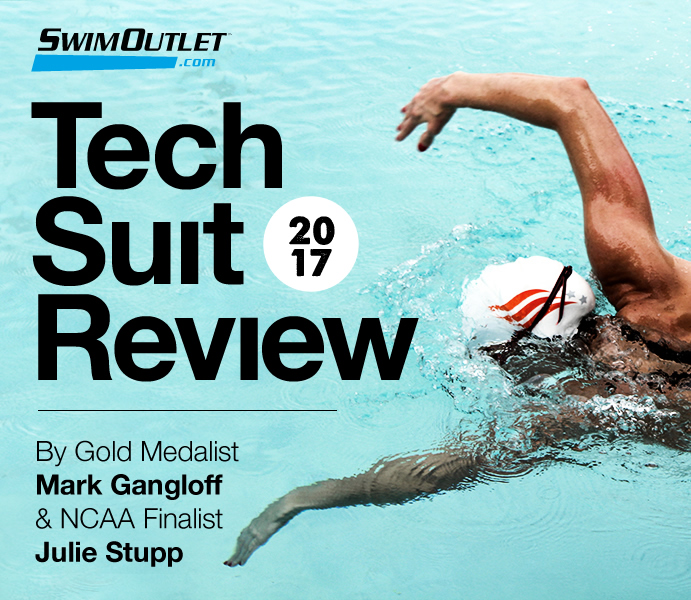 TOP 2017 TECH SUITS REVIEWED (all prices subject to change at any time)
2017 Men's Stitched Technical Suits - Jump to Reviews | Visit Category Page
Arena ST 2.0 - Gangloff Review | Product Page 
FINIS Hydrospeed 2 - Gangloff Review | Product Page
HUUB Stitched Jammer - Gangloff Review | Product Page
Jaked J11 Water Zero - Gangloff Review | Product Page
Speedo Aquablade - Gangloff Review | Product Page
TYR Thresher - Gangloff Review | Product Page
2017 Women's Stitched Technical Suits - Jump to Reviews | Visit Category Page
Arena ST 2.0 - Stupp Review | Product Page 
FINIS Hydrospeed 2 - Stupp Review | Product Page 
HUUB Stitched Kneeskin - Stupp Review | Product Page
Jaked J11 Water Zero - Stupp Review | Product Page
Speedo Powerplus - Stupp Review | Product Page
TYR Thresher - Stupp Review | Product Page
2017 Men's Tech Suit Reviews 
by Mark Gangloff
I am glad to be back reviewing another group of suits for SwimOutlet.com this year – my fifth year of reviews! Most of you will recognize many of the manufacturers in this 2017 review and there may be a new suit or two that you have never seen before. As I have said previously, it is always better to have more companies offering top suits, because that means there are more options for you, the consumer.
This year's review is a bit different from previous Tech Suit reviews because we are testing suits at a lower price point in the under $150 category and focusing on stitched suits. While these suits are not the 'Lamborghinis' of tech suits, I was pleasantly surprised at their performance. Most of the materials used in these suits have higher amount of nylon/polyamide, which gives them a little more stretch. Additionally, most of the panels of the suits are stitched rather than bonded or taped which makes the suit slightly less hydrodynamic. 
Like previous reviews, I will have three main talking points about each suit broken into the following categories: 1) Size/Fit; 2) Materials; 3) Performance.
For those that have followed this suit review for the past couple of years you may notice something or someone is a little larger than he was before. For the past three months, I have been working hard in the weight room (I needed some new training goals) and I have actually gained about 10-15 pounds since my last review. I was a little nervous when receiving the suits (mostly size 28) that they would not fit correctly, but I was pleasantly surprised when putting them on because even though I gained a little bulk my suit size stayed the same.
Lastly, it is probably clear from past reviews that I generally prefer a highly compressive suit. The make-up of most of these suits does not allow for high compression. I think the manufacturers understand this and are catering to those that are looking for more comfort in a tech suit at a lower price point. When I list 'lacks compression' in the 'cons' section, I do not think it is a manufacturing mistake rather a design decision that is different from my personal preference. Here we go in alphabetical order with our 2017 Tech Suits under $150.
ARENA POWERSKIN ST 2.0 ($100)
Size 28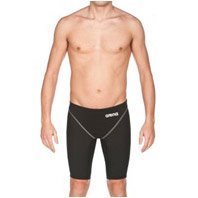 Much like TYR, I have worn and reviewed many Arena suits over the years. They have consistently been some of the best performing suits on the market and I was excited to try the Arena Powerskin ST 2.0 as the next generation ST given the popularity of the original.
Size/Fit
The ST 2.0 went on very well. Like several others in this review, this suit does not have the highest levels of compression, but it has great coverage. When swimming, all four strokes felt great in this suit. I did not feel any pulling around the leg holes or sliding around the hips. When adjusting the suit after initially putting it on, the suit stayed in place and had enough elasticity to move with my body as I swam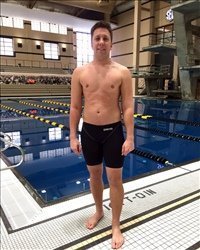 Material
This suit is made of 71% nylon and 29% elastane. Like the others of this make up, it lacked some compression, but that is to be expected for the suits at this price point – especially when you've spent your career in highly compressive jammers like I have.
Performance
I liked the way this suit felt in the water. Like the others, it moved well through the four strokes without any additional pulling or moving of the suit.
Summary
Pros: Comfortable & great coverage
Cons: Lacks compression
Grade: B
FINIS HYDROSPEED 2 ($55.99 - $69.99)
Size 34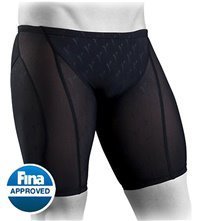 FINIS has put out many great training products but has invested a lot in the last couple of years into their tech suit line. Read my review before purchasing, the sizing is a little different from the other suits reviewed here.
Size/Fit
After speaking with one of the representatives at FINIS, he mentioned that the best way to choose my size is to use my practice suit size. For me, I wear a size 32 or 34 for a practice suit and a size 28 for my racing suit size, so I wore a size 34 for this review. I think I could have worn a size 32 but the 34 fit very well. This suit has good compression. The fabric within each panel stretches out quite a bit but because there are multiple panels that have been stitched together, the overall compression is higher than it would be if there were less panels. In this case, multiple panels gives better compression. This suit is a little short, so understand that it will hit a little higher on the thigh and a little lower on the hips.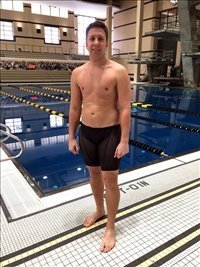 Materials
This suit is made of 73% Nylon and 27% Spandex. Like I said in the previous section the fact that there are multiple panels, gives the elastic material more compression, because the smaller panels have less overall elasticity than if it was made with one large panel.
Performance
This suit performed well in the water. Of the suits reviewed, this is one of the more compressive suits but is a little short for me.
Summary
Pros: Decent compression, liked the paneling
Cons: Short & difficult to find the perfect size. Only available in black.
Grade: B-
HUUB STITCHED JAMMER ($92.30)
Size 28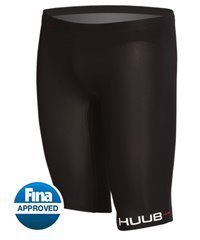 HUUB is a brand that is completely new to me and I am guessing you as well. Typically known for their wet suits and sponsorship of triathlon athletes like the Rio men's gold medalist Alistair Brownlee, HUUB has decide to dip their toes in the competition pool with this Stitched Jammer.
Size/Fit
Of the suits in this review, this suit design more closely resembles some of the higher price point suits. Putting it on was more difficult because the material did not stretch quite as much and they had minimalist stitching compared to some of the other suits with bigger seams that you are used to seeing. The liner of this suit fits like a typical brief and was stitched to the inseam of the outer liner. When I spread my legs apart, I popped the stitch out and the liner was no longer attached. While I was scared I ripped the suit, it was not necessarily a problem because I was able to pull the outside shell up to be in contact with the liner. Luckily, when the stitch popped it did not damage the outer shell.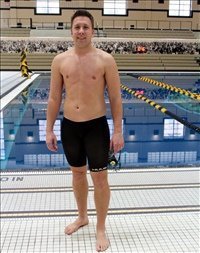 Materials
This suit looks to have the same makeup of the others in this review at 70% Nylon/30% Spandex but it feels a little more like a higher price point suit. It seem like this fabric was woven together tighter than the others. It has a thinner and more 'papery' feel to it – quite an impression for a brand looking to make a good first impression.
Performance
The fabric felt closer to a higher price point suit but there were a few product issues with the liner attaching to the outer shell in the crotch – so take a close look at that. Overall, this was a good suit.
Summary
Pros: Thinner tighter woven materials that make it feel like a high price point tech suit.
Cons: Possible durability issue with the liner and outer shell and it's thin material that gives it that elite feel.
Grade: B+
JAKED J11 WATER ZERO ($70.40 - 88.00)
Size 26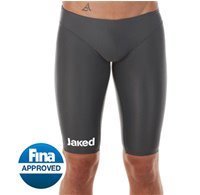 Jaked is a brand from Italy and I really enjoyed reviewing their last suit. I am glad to see that Jaked is making the investment in staying in the U.S. market because they put together some great products and SwimOutlet.com is one of their biggest retailers stateside.
Size/Fit
Often times when a foreign manufacturer comes to a new market, the sizing is slightly different. That is the case with Jaked suits. Like my last review when I tested the pricier JKeel, I went down to a size 26 for the J11. This suit had some of the highest compression of the suits reviewed here, which is a plus in my book. That is due partially to the size being smaller, but also because the suit is cut tighter. The only part of the suit that felt a little too tight was around the leg holes. When I moved around in the water, the suit would slide down off my hips because the leg holes did not have any 'give' in them. As with many tech suits I have tested, when trying this suit a second time, it fit much better after it had formed to my body more. I really liked that aspect.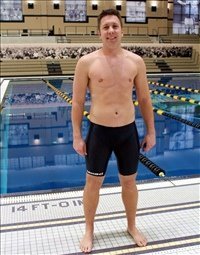 Material
This suit is made of 80% polyamide and 20% elastane. Like most of the suits in this review, this suit has a lot of elasticity, but is comfortable to the touch. My criticism of the suit is more about the cut and less about the materials. I would put the materials of this suit on par with the others reviewed here so all around a quality job from the folks at Jaked.
Performance
It has some good compression and is comfortable. The leg holes were a little too tight for my body.
Summary
Pros: High compression for the lower price point suits
Cons: Leg holes a little tight – could it be my bulkier frame?
Grade: B+
 
SPEEDO AQUABLADE ($47.45 - $79.00)
Size 28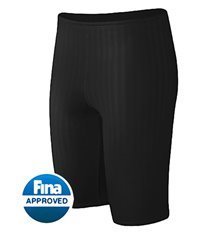 Many of you will remember the classic Speedo Aquablade – it's been around for a while. I certainly had a few of them and swam very fast in those suits during my career. It was fun opening the box for the new Aquablade and seeing some of those same design features of the lines in this suit. I was excited to get in the pool with it because it seemed like an old familiar friend.
Size/Fit
Like many other versions of Speedo suits, this suit fit very well. I had no problem getting into the suit and it had full coverage everywhere. This suit was the least compressive suit in this review, but I never felt like I had any extra material or drag as I was going through the water so the feel itself is spot on. The suit moved great with each stroke.
Materials
The liner of this suit is made of 90% polyester and 10% spandex. The outer shell of the suit is made of 80% polyester and 20% Lycra spandex. The make-up of this material makes the suit very soft and has a lot of elasticity. This is one of the most comfortable suits to wear in this review hands-down. There's a lot to be said for that. Its subtle stripes are meant to create a channeling effect for less drag.
Performance
The Aquablade suit is an extremely comfortable suit that can be worn during a long weekend competition. When testing, I always felt like the suit was connected to me and moved well with my body. I prefer having higher levels of compression in a tech suit, but for those looking for an affordable and comfortable suit from a great brand like Speedo, this may be for you.
Summary
Pros: Took me back to one of my favorite suits of all time; comfortable
Cons: Lacks compression
Grade: B
 
TYR TRESHER ($99.99)
Size 28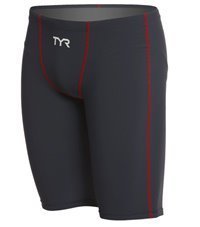 I have worn many TYR suits in the past and have really enjoyed most of them. I was particularly excited with this suit because when I took it out of the box it reminded me of the suit I wore in 2004 at the Athens Olympics when TYR previously sponsored me (I promise to be unbiased). You will notice the different colored stitching that was part of the design features of my 2004 Olympic suit so it was a nice throwback to old times!
Size/Fit
This suit went on easily and had great coverage everywhere. When I got in the pool, the suit moved well with my body through all of the strokes. The only downside is the lack of compression. As you know, I like my suits tight for high performance but a suit like this is not designed for that type of compression. I would feel great about having to wear this for a long meet or an open water swim. Or maybe I could have sized down but it the sizing seemed just right for me.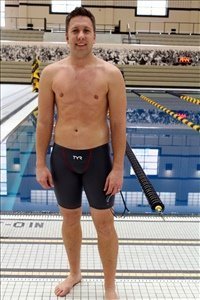 Material
This suit is made of 71% nylon and 29% Lycra spandex. This make up give the suit a lot of elasticity and feels soft on your skin. A nice blend.
Performance
This suit was comfortable and moved well with my body as I went through all four strokes. As a matter of personal preference, I like more compression, but this is a very comfortable suit.
Summary
Pros: Great coverage & moves well.
Cons: Lacks compression for the size that I tried.
Grade: B
 
2017 Women's Tech Suit Reviews 
by Julie Stupp
In this year's tech suit review we will take a look at a completely different category of racing suits. The 2017 review will focus on tech suits that cost no more than $150 and are all stitched suits. Meaning they are not made with high-tech machine bonded seams, they are simply stitching one fabric to another. It's an important distinction and it dramatically lowers the price.
All of the suits in the 2017 review are made of less technical fabric when compared to the high-end suits we saw for the 2016 Olympic year. The beauty of this year's review is we are reminded that there is a tech suit out there for everyone. Whether you are just starting your competitive swimming career as an age group swimmer, or you are jumping in a local masters meet for fun, or you don't want to break the bank in the beginning of the Olympic quad, you have options! The suits I tested allow all types, young and old, green or professional-level swimmers the opportunity to wear a tech suit.
The pros of the under-$150 tech suit are many. For one you are spending much less money for a racing suit! High-end tech suits are an expense that many families and swimmers cannot afford, so having the ability to spend significantly less money while getting a quality racing suit is a win-win. They can also be pretty comfortable since they don't lock in your muscles quite like the elite suits. At the same time, these tech suits will make you faster in the pool because they cover more skin, are made of lighter weight fabrics compared to a training suit and they still provide significant compression for your muscles while racing.
There are cons of the under-$150 suit. Simply put, you will most likely never see one of these suits in a World Championship final because they don't have all of the high-tech features that you get when you pay three times more for a suit. Advanced technologies such as engineered-fitting, laser cut fabrics and silver woven materials will not be found in these suits.
The 2017 tech suits we reviewed have several things in common. Most do not take 15 minutes plus to put on, they generally fit a bit looser due to having less compressive fabrics and the overall sizing of these suits is more generic, because the engineered fitting of elite suits is very expensive. There are pros and cons to the 2017 tech suits just like every other year, the most important thing to remember is that it is the athlete doing the work and not the suit performing magic in the water. Now, let's dive into the six different stitched suits of 2017 in alphabetical order.
ARENA POWERSKIN ST 2.0 ($140)
Size 28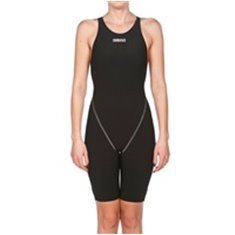 Size/Fit
I was excited to try on this next generation Powerskin, one of Arena's most popular suits of all time. The Arena Powerskin ST 2.0 fits very similarly to the Speedo Powerplus due to its long-legged, high-necked nature. Both of these suits are double lined with fabric throughout the chest, torso, glutes and hamstrings giving you extra durable tech suit. The downside to these predominately nylon based tech suits is that they fit more loosely for those of us used to the high-compression elite suits. Again, I would suggest going down at least one size in the ST 2.0 if you're looking for compression in order to get a more-fitted racing suit.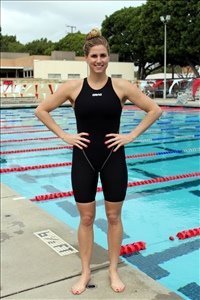 Material
The Powerskin ST 2.0 is made with terrific high-quality hydrophobic coating that showed bubbles immediately forming on the surface of the suit when I jumped in the water. This means that the suit was repelling the water, not absorbing it, thereby making me more hydrodynamic in the pool. Unfortunately, the Arena ST 2.0 is stitched together with some pretty thick, bulky seams. These are not ideal for slipping through the water seamlessly. They are rather minimal on the chest and torso of the suit, but are more pronounced throughout the lower body and legs. I'd love to see them make a small update to the stitching for future seasons but I'm guessing they've also done this for durability.
Performance
The Powerkin ST 2.0 performed really well in the pool. I felt quite a bit of compression throughout my hips, glutes and legs, which was perfect for dolphin kicking underwater off of each wall and racing all four strokes. Had the suit been a size smaller, I would have felt extra compression throughout the chest and upper body, as well. A tighter-fitting suit would have helped me to feel more secure diving in the water at full speed and not having some water rush in.
Summary
Pros: Compression throughout the hips, glutes and legs was ideal for this price point.
Cons: Thick bulky seams in some areas and lack of compression throughout the chest left me wanting just a bit more.
Grade: A-
 
FINIS HYDROSPEED 2 ($95.99 - $119.99)
Size 32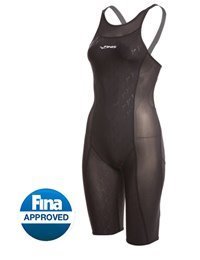 Size/Fit
The Hydrospeed 2 is definitely a smaller and tighter fitting suit, I would suggest going up two sizes from your normal race suit size – quite a change from many of the wear test suits where we can go down a size. It is a shorter suit, meaning the legs sit at about the midway point on my quads, where most of the other tech suits in this review went down to almost my knees. The Hydrospeed 2 is tight around the quads, which is good for compression but it is especially tight in the bottom seam. The suit is tight across the back but well-fitting, throughout the chest and torso. The Hydrospeed 2 is the perfect fit for a more petite athlete.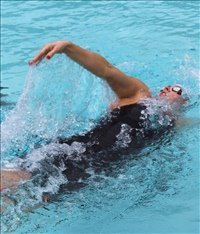 Material
The Hydrospeed 2 has an interesting mix of fabrics. There are several mesh nylon panels throughout the suit combined with double-lined spandex sections that cover the torso and glutes. The mesh panels are almost completely see-thru and they run vertical from the chest to the quad on the sides of the suit. There is also a mesh panel that runs across the top of the chest near the neckline. However, unlike the Jaked, none of the see-thru sections of the Hydrospeed 2 made me feel overexposed. While these panels allow for extra flexibility and movement in the pool they also allow water to flow in and out of the suit. Unfortunately, the water seemed to pool and get trapped in the butt area of the suit.
Performance
I immediately noticed an excellent sheen on the Hydrospeed 2 when I dove in the pool. It has excellent water repellent qualities. The Hydrospeed 2 allows for great movement and flexibility while swimming, making it a great option for long distance swimmers. This suit is optimal for any athlete who normally feels constricted or uncomfortable in a super compressive tech suit. 
Summary
Pros: With its panel construction, this is the perfect alternative for any swimmer who feels constricted in tech suits.
?Cons: The suit lacks structure and high tech compressive qualities.
Grade: B
HUUB STITCHED KNEESKIN ($97.50)
Size 28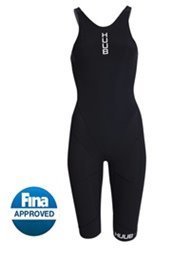 Size/Fit
The HUUB Stitched Kneeskin is definitely the most difficult tech suit to put on compared to the rest of the suits I tested this year. It is a very tight fitting suit due to the lightweight, paper-thin material. It definitely takes a bit more time, patience and care. You have to be very mindful not to rip the material when you tug it up and over your hips. I'm used to this with the elite tech suits but those without this experience should really be cautious. The HUUB Kneeskin fits well with its long legs and mid-cut fit on the back. The downside to the HUUB Kneeskin fit is that it doesn't fully cover the chest. It has a much more narrow cut in the upper body and would not be good for any swimmers who are looking for extra chest support. The size 28 was a perfect fit for me and this suit is true to size.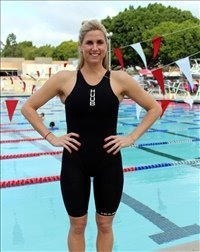 Material
The HUUB Stitched Kneeskin reminds me a lot of the old school paper suits that you used to see on the pool deck in the mid 90's. The Kneeskin material is made of 30% elastane (spandex), which gives it the extra compressive feeling throughout the core, hips and legs. The fabric was treated with a high-quality water repellant giving it an immediate screen when I jumped in the pool. Unfortunately because the material is more delicate and thin, it doesn't appear to be the most durable tech suit I tested this year.
Performance
The HUUB Kneeskin was one of the most compressive tech suits of the 2017 bunch – especially impressive given its light material. It is the perfect suit for sprinters and breaststroke specialists who need extra core and leg compression throughout their race. Because the HUUB Kneeskin has a narrow cut in the chest, it felt too loose while I was swimming at top speed. Unfortunately I had some water slip in through the top and sides of the suit after I dove in the water. This suit helped me to feel hydrodynamic and fast after multiple wears because of the extra compressive elastane material and hydrophobic treatment.
Summary
Pros: Lightweight, paper-thin material gives great full body compression. True to size fit!
Cons: Take heed when putting the HUUB on with long fingernails or hasty fingers, this suit could easily tear. Unsure of its durability.
Grade: A-
 
JAKED J11 WATER ZERO ($116.80 - $146.00)
Size 26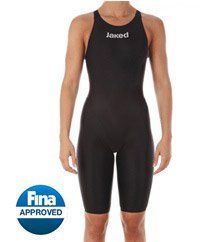 Size/Fit
The Jaked J11 fit is middle of the road, meaning the leg length is not too short and not too long, while the back of the suit sits a bit higher, but not at an uncomfortable height. It has a nice snug fit especially around the hips and waist, giving you the sensation of extra suction and lift while in the water. The size 26 fit me perfectly, which is normally a size too small for me. Like several of these suits in the review, I would suggest going down at least one size in this suit for an optimal fit.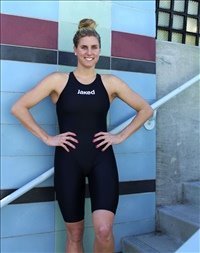 Material
The J11 is made primarily of polyamide and is unlike the other tech suits in the review that utilize mainly nylon or Lycra in their fabrics. The polyamide material has a more silky feel to the touch and a glossier look on the body, but unfortunately it was completely see-through in some parts of the suit. The transparent material made me feel uncomfortable standing on the pool deck, especially in the sunlight – so this could really be an issue for some folks.
Performance
The J11 has a minimalistic shoulder strap design, which is great for race performances. The construction of the shoulder and backstrap along with the silky polyamide material made for the perfect tech suit combination for long distance races. The Jaked J11 fuller coverage fit throughout the back of the suit and the suctioned waist and hips in the front helped me to feel more efficient and hydrodynamic in the water. The more material we have covering our skin the faster we can slip through the water and swim more effortlessly – so I was really happy with the performance qualities of the J11.
Summary
Pros: Comfortable suit material & overall fit throughout the body.
Cons: The see-through sections of the suit are a deal breaker for me personally but if you are wearing a parka or robe right until race time, this might not be an issue.
Grade: B- (in large part due to its transparency issue)
 
SPEEDO POWERPLUS ($63.86 - $99.00)
Size 28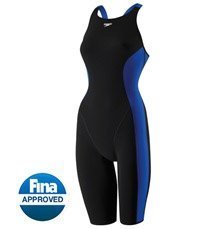 Size/Fit
The Speedo Powerplus fit my body type quite well. It is a great option for a tall athlete, because it sits high on the chest and has long legs. The Powerplus moulds really well to the body because of the combination of different fabrics woven throughout the shell and the lining of the suit. I would definitely suggest going down at least one size in this suit, because it didn't have quite the compression I had hoped for in my normal size.
Material
The Powerplus is made up of a majority of nylon and polyester, which gives it the extra stretchy sensation in the pool. This suit is a great option for anyone who doesn't want to struggle putting on a suit and for anyone who will be sitting on deck at length in between races. The Powerplus only has 21% Lycra in the shell and 10% Spandex in the lining, so it feels less compressive compared to some of the other 2017 tech suits I tested.
Performance
The best feature of the Powerplus is the shoulder strap! The bonded comfort straps sit securely on your shoulders and back, yet they give you the necessary flexibility for long races or meet sessions. Well done with that design! The suit performed well in the water because it molded to my body and helped me feel fast, yet comfortable, while racing. The Powerplus is the perfect suit for an IMer or Butterfly/Backstroke, who requires maximum shoulder mobility while racing.
Summary
Pros: The bonded comfort shoulder straps were ideal!
Cons: Not enough compression throughout this suit.
Grade: B+
 
TYR THRESHER ($149.99)
Size 28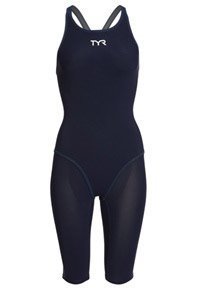 Size/Fit
The TYR Thresher was the best-fitting suit for my body type. It has long legs, full chest and torso coverage and a mid-back cut. The Thresher has very few seams, which also helps the suit to fit more securely around the waist, hips and legs. The only downside to this suit is the shoulder and backstop construction. The seams on the shoulder and back straps are not the most comfortable for long swim meet sessions. The Thresher back strap construction is a bit more substantial than the more modern minimalist designs you see on the other 2017 tech suits. The size fit me perfectly.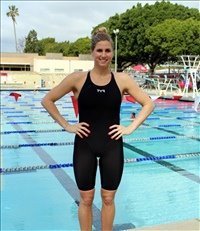 Material
The Thresher is mainly comprised of Lycra spandex and nylon which gives it the most compressive fit of the 2017 bunch. Not surprisingly, it's also among the most expensive of the group. The fabric is 29% Lycra and 71% nylon, this combination of materials helped me to feel extra compression throughout my core and lower body giving my muscles the desired support and lift while swimming. The suit not only feels super compressive, but also very durable due to the double layering throughout the entire torso. The Thresher is very water resistant -- it had water rushing off of the suit after multiple uses.
Performance
The TYR Thresher performed very well in the water because of its hydrophobic coating and compressive qualities. The Thresher is the perfect tech suit for anyone not wanting to break the bank, while getting great technology for less than $150. This suit was excellent for all four strokes, starts, turns and underwater kick outs. I think any stroke specialist would feel comfortable and fast in the Thresher.
Summary
Pros: Super compressive & durable fabric gives this suit the winning combo.
Cons: The low-tech, basic back strap construction.
Grade: A
---